Hearing a telltale scratching in your attic? Here is a standard squirrel removal method.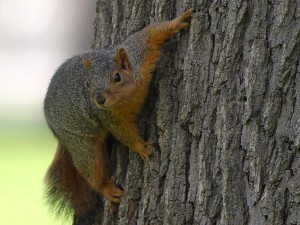 For Emergency Call Pest Control: (651) 646-6431
One of the most common pest problems are squirrels that have chewed their way into homes. The method to remove those squirrels is fairly simple, provided you don't mind working on a ladder. These critters are very persistent so therefore you need to put on your best game face. They normally find their way inside homes via a tree that is overhanging the house, across power wires or possibly by just crawling up the stucco.
Attics, basements and sheds are all attractive areas for squirrels to build their nests, so they must be carefully sealed to prevent the rodents from finding their way in.
When a squirrel takes up residence in a home, they can present a serious fire hazard as they like to chew on exposed cables and electrical insulation, which can cause a short and therefore a fire. Persistent noise, unpleasant smells and eventual structural damage can also result from having an unwelcome resident. Don't ignore a squirrel nest in your home!
These 5 tips can help you remove these critters:
Locate where they have breached your home.
Set traps near this point.
Traps these squirrels with trap baited with Peanut Butter.
Relocate these squirrels at least 15 miles from your residence – also check with Department of Natural Resources regarding transporting these animals, and where they can be released. There may be laws and regulations applicable to your town or state.
After you think all squirrels have been removed, paper test the hole to make sure nothing is entering or exiting the hole. At this point you are ready to seal the hole and get on with life – minus your non-paying tenants!
Hope this Laughlin's Pest and Critter Control squirrel removal method helps you to a safer and cleaner home.
Minneapolis, Maplewood and Metro Area's best Exterminators
Call Pest Control: (651) 646-6431