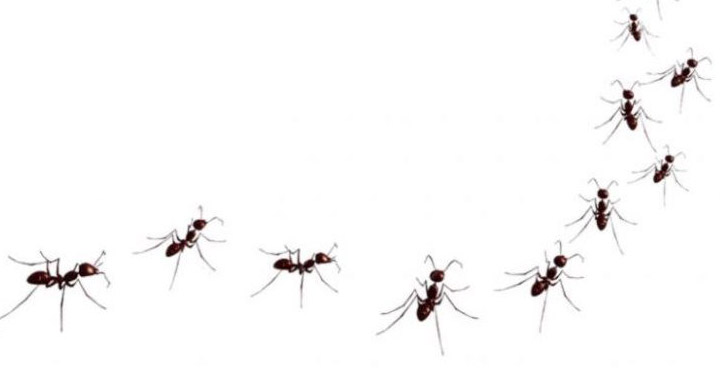 These little animals run our world and ruin our kitchens; an estimated 322 quadrillion and (That's 322,000 trillion – as much mass as all the human beings on the planet) are on Earth turning over soil and preying on other insects daily. This is a great opportunity for myrmecologists (ant specialists) to drop a little ant science.
Ants communicate chemically with glands located in or near their anus, in addition to 30 additional glands scattered around their bodies.
In Welzel's words: "Ants are basically a walking chemical factory. There's just glands everywhere." Rectal glands are used to lay odor trails to help nestmates find food; they also summon help when an ant is threatened. The poison glands of ants are also located in the rear, and make formic acid.
The outer surface of ants is covered with chemicals that let them identify friend from foe. All nest-mates have a similar chemical profile, and it's pretty oily stuff they slather themselves in daily.
The hydrocarbon profile of ants is so colony specific, invaders have to mimic them to avoid annihilation. It is possible to fool ants — some predators mimic the "smell" of an alarm pheromones, with incredible precision, sowing panic and confusion. A few spiders seem to have figured out how to remain invisible to ants chemically.
Some insects, like aphids and caterpillars, provide sugary poop treats to avoid ant attack, and ants will protect and carry them from place to place in reward.
Almost every ant you've ever seen in your entire life is female. "Males just don't even matter… They're barely ever around. They're only there for a particular season, and when they are around they don't have the mandibles to actually do any work."
Stupid Ways to Die if You're an Ant
Some of the more entertaining discussions about how an ant might meet a gruesome end involved the parasitic fungus Ophiocordyceps, which grows inside ant bodies, turns them into zombies, and eventually sprouts out of their heads with lethal force. Some parasitic flies inject their eggs inside living ants. When ready to emerge, the maggots decapitate their ant hosts. A whole host of parasitic wasp species also lay eggs inside of ants with chest-burster results later on.
Ways to Eliminate Ants
How Do I control ants?
Treatment plans must consist of killing the whole colony. Simply spraying an ant using a normal ant spray, especially a toothpaste spray is only going to kill a few.
Ants may come in your home foraging for food or even to seek refuge. Knowing the behaviour of ants can aid you with using the advised pest control processes outlined here. They go through the smallest gaps, foraging for food or water. They're in search of sweet established foods or protein/grease established foods. As soon as they locate a food supply, ants will likely leave a pheromone trail for other ants to follow along.
Understanding their behaviour patterns as outlined above and below can allow you to attain the very best pest control.
To keep your ant problem in check, inspection is a significant initial step.
To discover ant nests, follow along their paths. Ants lay a chemical pheromone path as well as their established routes to and from your food supply so that other Ants can readily discover the food.
Within a home, inspect the rug edges, windows, doors, and all regions of the kitchen. The simplest way to discover a path to the nest would be to observe where ants proceed after reaching the food source. If you're targeting Carpenter Ants, inspection at night is more effective because the bigger Carpenter Ant is nocturnal. It's possible to place Carpenter Ants appearing from broken wood within the home, or foraging outdoors in woodpiles, rotted or water-damaged timber, and tree stumps.
Outside the home, scrutinize around foundation walls, vegetation, and mulch. Any vegetation found close to walls and patios might hide some Ant paths. Assess under any item that's on the ground. Some ant nests are nicely concealed.
Eliminate the nest straight-up whenever possible or use lure or non-repellent insecticide around the outside of the home and on the ant paths.
There are two chief kinds of ant conditions generally encountered when you have an ant issue.
Ants that Reside Outdoors and forage inside
Ants that have a nest built in your home
Your pest control plan should be contingent on the sort of infestation and the sort of ant that's responsible. Identifying which sant you're dealing with is useful, but might be tough without a magnifying glass.
Ants that live outdoors and forage in the house.
Ants that reside outside will come in your house to hunt for food. Some species eventually live and nest within homes. Follow the steps below to help prevent either form of infestation from developing further:
Caulk and seal cracks and seams to get rid of passages to your house. Because Ants are really industrious in finding entrance points, so you might not have the capability to seal all of them.
Wash around entry points using a soap to eliminate the ant pheromone placed on their route, then squirt on a non-repellent residual insecticide across the perimeter and entrance points.
Ants that nest within your house.
Many ants do not simply enter your house foraging for food. Some ants will set-up a colony indoors.
Indoor colonization occurs year round. All these ants can infest food storage areas. Most ant pesticides are safe to use around pets and kids when you follow instructions. Ant baits arrive in implants, granules, or channels. The active ingredients in those baits might be sugar-based or even protein/grease-based, to lure an assortment of ant species and also fill their dietary needs.
Carpenter Ants are busy in theevening hours when foraging for food, both within the home and outdoors. By detecting carpenter ants at night, you have the ability to tell in which to product to use, spray or lure. Eliminating the nest itself is always the best solution for carpenter ant management. Until the whole nest is effectively handled, the colony might scatter and spread. Utilize a non-repellent insecticide to ensure complete ant colony removal.
Place Carpenter Ant Baits right on the Ant trails.
Utilize a non-repellent insecticide aerosol. Non-repellent aerosols are exceptional to repellent aerosols since the Ants don't detect them and will not avoid being affected by them. A normal binder spray will kill the nesting ants Ants.
To Stop further Carpenter Ant Risks:
Trim all trees and shrubs so branches don't touch the home.
Proper moisture problems like leaky roofs and pipes.
Paint or seal exposed hardwood structure before it will become moist.
Replace rotted, water-damaged, and formerly Ant-infested wooden areas of the construction.
Eliminate dead stumps around the land and store firewood from the floor and away from the construction.
We hope this helps. If you need further assistance call the number at the top of the page. Even during normal off hours if we don't answer our goal is to get back to you within a half hour of when you leave your voicemail. Get rid of those ants.
In Summary: ANTS
If you want to know more about the amazing chemistry and behavior of ants, Journey to the Ants is a great book to start with, and there are some great videos explaining ant research and ant reproduction.